Korean-beauty product is long known for taking over the Vietnamese beauty market. With more than 97 million people, half of it is from 15 – 50 years old and the average income per person is increasing day by day, it's easy to understand that Vietnamese's necessity to "look great" is expanding.
Keeping warm and well-fed is no longer sufficient, nowadays, Vietnamese go for nice clothes and tasty food. This change in society also brings them to look for cosmetic products to utilize their appearances. They believe that cosmetic products, especially skincare and makeup ones, are important to increase their appeal and charm. And guess who wins Vietnamese customer hearts? No other than Korean cosmetic brands.
You may think that because Korea is also an Asian country, its products will be more suitable for Vietnamese than others and that is the reason why Vietnamese prefer K-beauty products. But in reality, there is much to be said about how Korean cosmetics are flying off the shelves quickly. 
According to a Statista article published on Dec 09, 2020, Vietnam's import of cosmetics has more than doubled from about 355 million U.S. dollars in 2010 to over 790 million U.S. dollars in 2018. Vietnamese beauty trends industry include K-beauty and multi-step cleansing to address main skincare concerns such as acne, large pores, and dark under eyes. On the brand maps, Korean cosmetics were accounting for 22% of Vietnam's market share, being the most loved brand in Vietnam (Source: B-company, 2020). Numerous Korean brands are hoping to extend their tasks to take advantage of the quickly developing Vietnamese market. 
Then why do Vietnamese love Korean cosmetics so much?
1. The influence of K-star in Vietnam
The reputation of K-pop and Korean TV series, generally called Korean waves, has significantly spread across Vietnam. The Chosun Ilbo news quoted the research of Lab Blip and pointed out Ho Chi Minh achieved 1st place as the most loved K-pop place in the world. On average, each person in this city contributes 393 views of K-pop. In Vietnam, it is easy to find a K-star fan in the younger generation. Through the influence of K-stars, Vietnamese are allured by the Korean style of beauty: shiny and flawless skin with a really white skin tone. In the Vietnamese beauty concept, it's a common thought that the whiter you are, the better the clothes look on you.  
This influence also helps Korean cosmetics reach out easily to Vietnamese consumers through the advertising/ambassador contracts of K-stars. Vietnamese fans follow their idols on every move and more often than not will buy products marketed by their idols as a way of showing their support. This way, even if the products haven't been imported to Vietnam yet, the brand has already been recognized. 
It's no exaggeration to say that Influencers are a major reason K-beauty products are a phenomenon.
2. Natural beauty and flawless skin tendencies
When it comes to dealing with imperfections of the skin, Vietnamese women, just like most Asian women in general, usually do not go for a thick layer of makeup but are concerned with improving their skin. This "skin-first" philosophy is grounded in natural beauty concepts. To Vietnamese women, to achieve the ideal skin, you need to take care of your skin frequently and preferably wear light makeup. The method of the 10 steps of the Korean skincare routine, which consists of cleansing and purifying the skin daily and protecting it from the sun, therefore really attracts a large number of Vietnamese consumers given the fact that it can help improve skin condition significantly. Korean cosmetic companies also gain a lot of attention as they always highlight the flawless skin result of their products in marketing content production. 
 3. Natural ingredients along with technology and innovation
One of the undeniable strengths of Korean beauty products is their composition. Korean cosmetics are well known for being made up mostly of natural ingredients, and voila!, using natural beauty products is a recent trend in Vietnam. As stated by B&Company online survey conducted in 2019 for women, 73.2% of participants were using natural skincare products and 19% were unclear.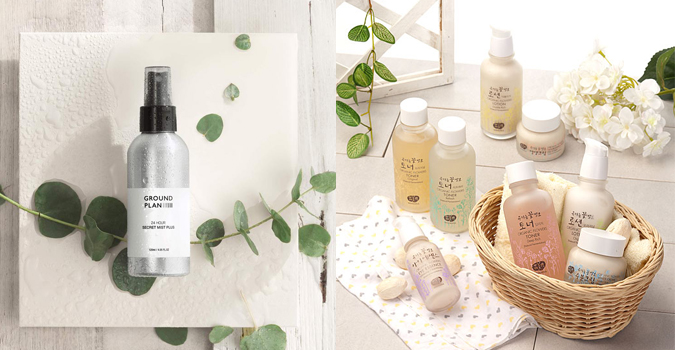 Furthermore, natural ingredients are leveled-up with technology and innovation. There are many techniques of Korean cosmetics known very little by the Western such as extraction and fermentation. In addition, Korean companies are really responsive and up-to-date, they often spend less than six months on planning and launching products, making them respond to cosmetics trends faster. And with the strong interest of companies in the field of continuously finding better remedies, many more advanced products will be offered to the market. 
4. Attractive package
Vietnamese love for Korean cosmetics not only comes from their quality but also from their eye-catching packaging. Women are always interested in beautiful things, and Vietnamese consumers, especially the ones with higher incomes, prefer high-quality products but also ones with attractive packaging. Knowing this characteristic, Korean beauty companies always take the product packaging process as extremely vital to capture the women's market.
Typically, there are two kinds of packaging for K-beauty products: Fun, bright colors with cartoon characters and sleek, minimalist designs. The brand and product names are catchy, clear, and memorable worlds that gear toward customers. How can you pass by the shelves without looking at these products?
5. Economical and easy to buy
The final reason that pushes Vietnamese consumers to try K-beauty products is that their value for money is unbeatable. Considering the fact that these products are natural, created with cutting-edge technologies, and are also imported, Korean cosmetics are not expensive. Not to mention that K-beauty products often yielded about the same or better results than the other brands within the same price range.
And even if you are a student with a small pocket, you can still look for K-beauty products with a lot of them just range from 4 USD (right, just 4 USD!). Vice versa, if you are an affluent one and look for products to show up fashionable; Whoo, Sulwhasoo, Ohui… is there for you. The wide range of products from low-end to high-end and specific brands in different skin problems such as whitening, acne treatment,… offer customers many choices they can't resist.
Another plus mark of K-beauty products is that they are easy to buy across Vietnam. Even though the brands imported through official channels are still modest, many local shops and online shopping sites are full of trendy Korean cosmetic products.
Wrapping up, the Korean beauty industry has proved that it is not just a phenomenon but an awakening giant. And Vietnamese, despite many differences in culture, climate, and living conditions still consider K-beauty products as skin saviors ones.
For quick consultancy from SKYPERRY, businesses can contact us via the hotline: +84 88 605 6868 or email: support@skyperry.com.