With a clever marketing approach, NUK has consistently prospered in the varied and alluring world of kid-friendly items. NUK has proven to be a dependable source of high-quality, clever products for young children, from ground-breaking inventions to the process of building a brand that honors children's natural development. In addition to producing goods for moms and infants, NUK has had a unique mission since its founding in 1947 in Germany: comprehending the life of a kid through every developmental stage and completing the mission for the best development of future generations. Come along with SKYPERRY as we delve into the specifics of NUK's marketing strategy and how they are currently laying the groundwork for the exceptional growth of young children.
"Follow the SKYPERRY series on mother and baby brands – Which Marketing Strategy Has Helped Fisher-Price Succeed in the Toy World?"
NUK and Oral Development Flat Orthodontic Pacifiers
Outstanding dental specialists at NUK have developed a revolutionary breakthrough since 1956. They conducted a thorough investigation and discovered that a mother's nipple naturally develops into an asymmetrical shape over time, mirroring a child's normal growth.
Following up on this finding, NUK unveiled the flat orthodontic pacifier, another ground-breaking move that set the stage for the brand's remarkable rise to fame. Not only does this pacifier facilitate breastfeeding, but it also helps newborns' first teeth erupt naturally and healthily.
Knowledge and Experience in Healthcare Collecting from Thousands of Mothers
Every NUK product is built on the knowledge gained from medical science and thousands of breastfeeding moms' experiences. The independent GFK Healthcare Research Institute in Germany constantly tests all products, which are designed using the latest medical research. Consequently, pediatricians, midwives, and dentists advise against using NUK.
NUK acknowledges and Supports Children's Natural Development
NUK is based on the "Understanding Life" philosophy and four key understandings. NUK provides a thorough and long-lasting developmental journey for infants by understanding each stage of a child's development, working alongside parents and professionals, and pursuing natural growth.
In addition to being a brand, NUK is a friend to millions of kids all over the world. At NUK, "Understanding Life" encompasses the understanding of newborns, parents, specialists, and natural development. It is a delicate balancing act that involves understanding every developmental stage of a child, assisting parents in parenting their offspring, establishing connections with medical professionals, and promoting natural development through creative thinking.
52 Prestigious Awards from Europe to Asia Recall Its Position
NUK has consistently demonstrated its authority in the mother and newborn care sector by winning 52 important accolades. The brand is well-known and supported by specialists in more than 110 countries. From Europe to the Americas, Asia, and Africa, NUK has cemented its standing as an essential ally in every child's developmental path.
Nuk Nature Sense Baby Bottle: Safe and Mild Materials for Infants
The NUK Nature Sense baby bottle sticks out in the brand-shaping process as a product that embodies perfection for infants. With its safe materials, distinctive nipple design, and pressure-regulating abilities, this product amply illustrates NUK's dedication to babies' healthy development. NUK is more than just a children's brand; with over 70 years of experience and an emphasis on children's natural well-being, it is also a dependable partner in every child's developmental path.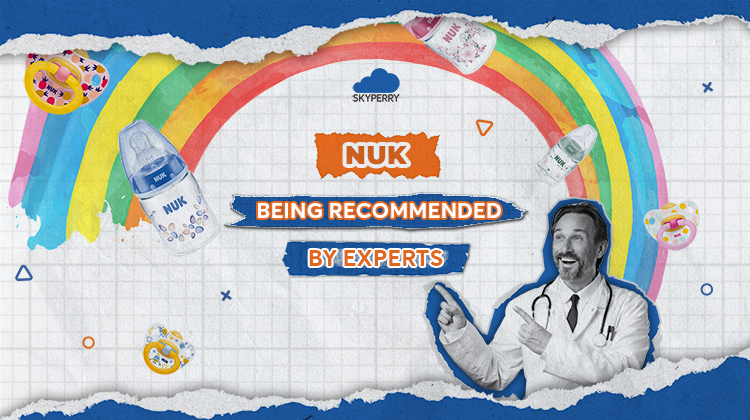 In addition to being a line of children's toys and goods, NUK is a way of life that recognizes and supports a baby's natural growth. By merging the concepts of "Understanding Life," innovative findings, and medical expertise, NUK has been producing items that are not just aesthetically beautiful and practical, but also have deep interactive significance between moms, their infants, and the environment. Every brand has a narrative, and each narrative influences the brand's marketing strategy and overall vision. With a broad range of industry knowledge, particularly in the Mother and Baby space, SKYPERRY is prepared to assist companies in becoming leaders in any given market.