Not only owning a large number of Gen Z and Millennials users, the Hootsuite Digital 2021 report collected from the iOS and Google Play stores also shows that TikTok is second only to Tinder when it comes to the amount of money spent by consumers on the platform. foundation. All of them prove that TikTok is a "golden land" that businesses and brands cannot miss.
Below are the 3 most popular advertising goals on TikTok that units can refer to if they want to use this platform for advertising strategies, reaching users!
Awareness Campaign – Attraction from authentic experiences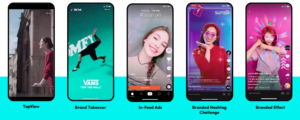 One of the typical examples of increasing brand awareness introduced by TikTok itself on its homepage is the campaign of cosmetics company MAKE UP FOR EVER when launching its Watertone line of foundation products in France.
To introduce new products, MAKE UP FOR EVER cooperated with Agency Labelium to launch a campaign in 2 phases on TikTok: increasing awareness and increasing discussion among target customers.
First, the agency selects the right local KOLs and creates native-feel content – content that actually experiences the product and promotes these videos with In-feed Ads – integrated content upload the video to the user's 'For you' feed. Next, Labelium used TikTok's newest form of e-commerce advertising: Collection Ads – Collection Ads. By displaying product tiles on the ad and allowing users to click through to the Instant Gallery Page, it makes it possible for TikTok users to shop right on the platform without ever leaving the app.
As a result, in just 3 weeks of implementation (from May 31 to June 22, 2021), MAKE UP FOR EVER's campaign generated more than 11 million impressions and 10 million video views throughout France, helping brands 94% increase in conversion rate and 51% decrease in ad costs.

The campaign "launching" JBL headphones by Agency SKYPERRY is also a good example of a successful brand recognition solution on TikTok. By cleverly integrating products with trends that are trending on TikTok, SKYPERRY has made it easy for JBL to spread new product images to young users in the most natural way. In addition, to optimize the message for the brand, SKYPERRY ensures the content always meets 3 points:
Catch the trend from the first 3 seconds
Each video only talks about 1 type of content – 1 call to action
Optimize content from 15s -60s
This is one of the points that help the videos in the JBL campaign to ensure transparency and synchronization between the huge number of videos per day on the TikTok platform.
Boosting sales – Stimulate the shopping experience
Advertising campaigns to increase sales usually focus on two main key metrics: click-through rate (CTR) and reach (CPM). The content for these campaigns needs to stimulate a sense of interest, engaging enough to lead viewers to purchase action. The content about the authentic experience of product features is also often fully utilized by brands for this purpose.
A few brands in Vietnam have achieved certain success in increasing revenue on TikTok, such as the campaign to buy and sell used motorbikes on the OKXE platform. To increase revenue and increase mobile app downloads, OKXE uses TikTok's In-feed Ads to reach its potential target of 18 – 44 years old. In particular, OKXE used TikTok Ad Manager's creative toolset to create advertising content that combines images and sounds, promoting audience interaction. The campaign achieved a conversion rate of 18%, driving viewers to download the app and rank higher on mobile apps. OKXE's ads also captured the audience's attention – achieving an average viewership rating of 3.1s/8s.
Raising Brand Love – Impressions from the brand's features
As the last step of the customer care cycle, campaigns to increase brand love or loyalty from customers normally cannot be done temporarily, raid with a few short videos.
Bobby, the baby diaper brand, has also taken full advantage of the TikTok platform to increase brand trust with a loyal fan base by launching the TikTok Branded Hashtag Challenge campaign.
Using the Branded Effect function with the hashtag #LungXinhLiLac, Bobby activated a campaign with a series of videos with famous hot moms and encouraged mothers or babies from 3 months to 3 years old to join the challenge: Make a peace sign that mom and baby can make a trip through space. Or make an "OK" gesture to walk through the joyful forest together. In both situations, the Bobby Chan mascot will appear with a cool breeze, demonstrating the main function of Bobby diapers: helping to keep the baby cool while comfortably playing daily activities.
To increase the reach and virality of the challenge, Bobby uses In-Feed Ads and Brand Takeovers and increases the appeal of the Banner and hashtags on TikTok's Explore. With 78,000 engagement videos with nearly 300 million views and 17.6 million reach, Bobby has created a successful campaign on TikTok while helping countless users create beautiful memories between themselves and their friends, children.