Premium brands' TikTok advertising is no longer a myth. With the explosion in the number of users, brands from high-end to low-end can not stay out of the game. They keep on organizing campaigns on TikTok. In particular, the results are also amazing!
Can premium brands use TikTok?
In February of this year, high-end brands Louis Vuitton and Saint Laurent were surprised when participated in a virtual fashion month organized by TikTok. These shows brought in more than 3 million views. Not only that, but the Livestream video also attracted more than 800,000 viewers. Through these live streams, viewers can instantly purchase products in the collection through the platform. TikTok does not disclose total sales at the end of the campaign. However, based on the number of followers and interactions, it can be concluded that the profit couldn't be small.
Before that, at the end of 2020, Gucci and Dior reached over 1 million followers on the brand's TikTok channel. On Louis Vuitton's TikTok channel, the latest videos have between 1 and 4 million views. In particular, the video on July 6 with the participation of K-pop band BTS earned more than 15 million views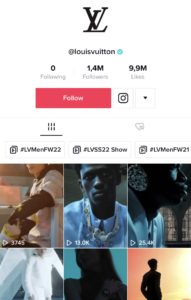 According to Cece Vu, TikTok's head of fashion and beauty partnerships, luxury brands largely don't want to rely on a direct relationship with a TikTok influencer. They achieved success by creating unique content for their own channel. Meanwhile, more affordable brands such as Aeropostale, Gap, American Eagle, and H&M with between 5,000-300,000 followers often choose the solution to combine with influencers on TikTok.
Gap, a brand with just 5,000 followers on TikTok, made a big splash in January 2021. Barbara Kristoffersen unexpectedly posted a video of herself wearing a hoodie with the brown Gap logo on the TikTok channel, which has 250,000 followers. Another TikTok star, Emma Chamberlain, who has 12 million followers, also posted a blue version of the shirt in September on the channel TikTok. Both videos have garnered more than 2 million views each, with the hashtag #gaphoodie also bringing in 10 million total views.
In Vietnam, Maybelline New York's campaign – "Mấy bé lì. Chẳng sợ gì" is considered one of the successful case studies on the TikTok platform. Maybelline's goal is to promote a new product: The supperstay lipstick line to young audiences from 16 years old.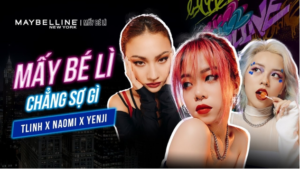 First, the label looks to the KOLs that are having the strongest influence on its target customer group. The brand's theme song was performed by TLinh, Naomi, and Yenji. The campaign also promoted a combination of Hashtag Challenge and Branded Effect to convey the brand's message.
With catchy music and the coverage of KOLs performed, its songs spread to the TikTok community. Maybelline also collaborated with KOLs on TikTok such as Tran Thanh Tam, Cindy, Mr.Virgo, and Minah Pham… to spread the campaign message. In addition to Hashtag Challenge and Branded Effect, Maybelline also integrated Standard Ads formats, Brand Premium, In-Feed Ads, and Brand Takeover Ads. Those of which are provided by TikTok to commercial partners to optimize campaign effectiveness advertising translation on the platform.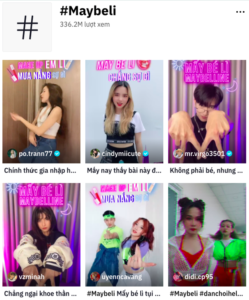 "Mấy bé lì. Chẳng sợ gì" has attracted more than 75,000 user-created videos, Hashtag #Maybeline has reached 19 million Vietnamese users. Other numbers are also impressive. Video views reached 173 million. Advertising visits increased by 31.34%. Sales of SuperStay product lines increased by 790%. Last but not least, online sales increased by 32.4% compared to the same period last year.
Elements for premium brands' TikTok advertising
1. Sparkling creative content
Whether it's a luxury or affordable brand, collaborating with KOLs or not, ideas and content are still the most important. Those factors determine the effectiveness of a brand's advertising campaign.
Unlike other platforms, when joining TikTok, users' experiences quickly change through many different states. Statistics from many reports show that 63% of TikTok ads have the highest click-through rate (CTR) when the message appears in the first 3 seconds. Not only that but 50% of the most successful ads are based on emotion. This means that the content of the brand needs to keep its authenticity, simplicity, and comprehensiveness of the message. Combine with the appropriate sound effects and filters. Not only is it enough to keep users watching the entire video, but also motivates them to take action, and spread the message.
More than 250,000 couples joined Spotify's #howduoyoulisten challenge with 713 million views.
According to TikTok, to achieve optimal content effectiveness, advertisers need to ensure the following requirements:
Authenticity is key! – Authentic and relevant content is the key for brands to enter target user territory. Brands work best when they find their niche, actively listening. Listen to the audience and interact with the latest trends.
Take advantage of the optimization tools and reinvent the content production process from TikTok itself to build a content plan from the start. According to TikTok's own analysis for the first quarter of 2021, retail companies using TikTok's creative tools delivered 14 times more effectively.
Build an always-on content plan: To attract new audiences, brands need to constantly share new and varied content. The goal should be to have 1-4 posts per day to test the reception of different types of content. Paid increments can then be added to get the most out of the reach of content that's doing well on the channel.
2. Measure the effectiveness of advertising campaigns
An advertising campaign cannot be successful without measurement tools. The use of accurate measurement tools and techniques is one of the factors that make TikTok a leading advertising platform. Not only understand users' perceptions and needs, but TikTok also provides important information about factors to consider when brands advertise on the platform. Accordingly, measuring performance on TikTok consists of 3 parts:
Media effectiveness: Campaign reach and brand safety on the platform.
Brand effectiveness: Brand awareness
Sales effectiveness: Real user behavior
Measuring these metrics helps premium brands assess the success of their campaigns, thereby making adjustments and changes for the next plan. Brands should work with TikTok's marketing partners to take advantage of the analytics and measurement capabilities, as well as the tools, that TikTok provides.
All in all, to build an advertising campaign that achieves business goals on TikTok, brands need to have an accurate analysis of their customers, and the market they want to participate in. From there, build an effective content strategy, and decide whether to collaborate with influencers or focus on creating your own unique content. Along with the ever-changing trends, the content and advertising solutions of brands need to adapt in time or create new trends themselves so as not to be "abandoned" on this billion-user platform.