To be able to expand the business market and grow sales, businesses dealing in mother and baby products need to identify the consumption behavior of Gen Z. Let's learn about gene consumption with SKYPERRY Z through the content below. 
1. Gen Z uses apps to shopping and searching for mother and baby product 
One of the dominant consumption behaviors of Gen Z is using technology and the internet to make purchases. The online platforms gen Z often use for shopping are e-commerce platforms like Shopee, Lazada, TiKi, etc. Besides, gen Z shop on social networking apps like TikTok with TikTok shop, Instagram, … According to statistics, currently, the shopping behavior of mother and baby products of Gen Z is gradually shifting from Shopee to TikTok shop because the form of livestream sales on TikTok gives Gen Z an intuitive look.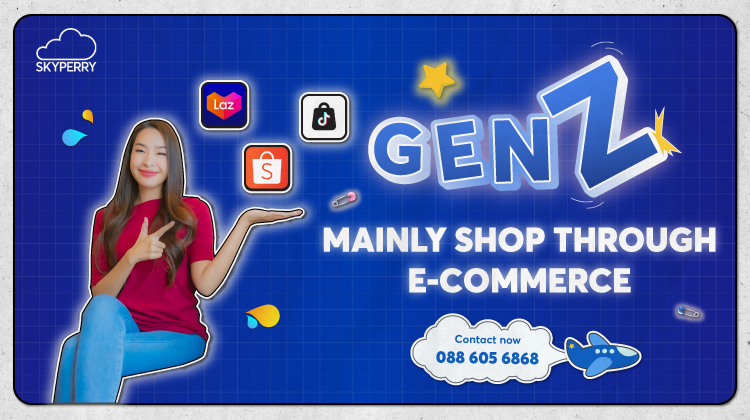 GenZ mainly shop through E-commerce
Before making a purchase decision, gen Z also uses an online platform to find products that match expectations. Not only that, Gen Z also takes advantage of these platforms to share and evaluate the products they have consumed. 
Understanding this behavior, businesses that are trading in mother and baby products should make full use of social networks and e-commerce platforms to reach Gen Z. At the same time, also from these online platforms, stimulate gen Z to evaluate and share to build objective trust for mother and baby products. 
2. Gen Z cares about the quality and origin of mother and baby products 
For Gen Z, price is not the most important factor in purchasing decisions. The first determinant of Gen Z's shopping behavior is the quality and origin of mother and baby products . The quality and origin of the product will have a huge impact on the health and safety of children and the sustainability of the environment. 
Gen Z understands that in order to give their children good health, a healthy immune system, it is necessary to take care of both the inside and the outside. Inner care is to use products with natural ingredients and materials that are safe for children's circulatory and immature immune systems. Taking care of the outside is about protecting the environment so that your child has a healthy living environment. Therefore, products that have a positive impact, do not pollute the environment, and avoid adversely affecting human and animal health will be prioritized by the Z gene. 
When marketers of mother and baby businesses approach Gen Z, promote content related to quality, origin, and environmentally-friendly production processes – people to capture more Gen Z affection. 
3. Using smart and convenient products to care and support the development of children 
Gen Z loves and prioritizes smart mother and baby products, because these products: 
– Provide maximum support to Gen Z parents, reducing the burden and pressure of entering a new role. For example, automatic temperature and humidity measuring devices, hands-free breast pumps, etc. are products favored by Generation Z parents. 
– help improve the child's experience, allowing children to develop skills and thinking abilities: for example, toys that stimulate children's interaction,… 
Finding smart products to take care of children is an inevitable trend in the life of Gen Z, helping to improve the quality of life of parents and children. Therefore, marketers when marketing products to Generation Z do not ignore this most important factor. Please clarify the intelligence of the product in the brand's content and publications when communicating to gen Z. 
4. Buy in bulk and variety to save time and costs 
Gen Z is a generation that cares a lot about meeting needs and convenience. Bulk purchase of mother and baby products helps them to have enough products to use and satisfy their needs in the long run.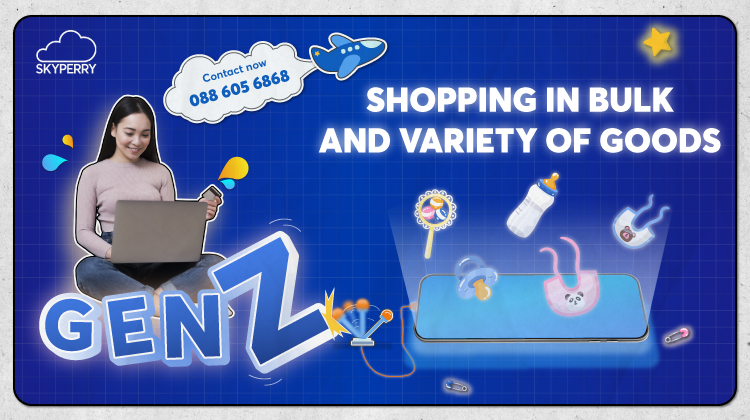 GenZ shopping in bulk and variety of goods
Not only buying in bulk, Gen Z also has a shopping behavior of a variety of items to have more choices in changing needs, helping to take care of their children in a comprehensive way. 
Shopping in bulk and variety helps Gen Z save a lot of time, effort and finance. Grasping this mentality, marketers will be more active in gen Z's shopping stimulus campaigns in the future. 
If the business is planning to expand its business market share, understanding Gen Z is a great opportunity for development. Hopefully, the 4 consumer behaviors of Gen Z listed above by SKYPERRY will help marketers of mother and baby businesses be more active in their marketing campaigns. 
If the business has not built a professional marketing team to carry out large-scale projects, it can contact SKYPERRY – an outsourced marketing department – with the cost of only one employee. 
SKYPERRY with 8 years of experience in cooperation with small and large mother and child businesses across the country will definitely bring customers – businesses with advice as well as special campaigns to collect potential customers. big. 
For the fastest support, please contact the hotline: 088 605 6868 or email: [email protected].