With the growth of big brands, mom and baby market in 2023 in Vietnam is more attractive to meet all demands of consumers. There are many speculations on the mom-and-baby market in 2023. This business field will become more attractive with lots of investment opportunities for investors. Let's find out these opportunities as well as mom and baby products that will become outstanding in 2023.
A "billion-dollar" opportunity for the mom and baby market 2023 in Vietnam
Nowadays, it is quite popular for Generation Z people to become parents in Vietnam. Because they are gen Z parents, their demands for buying items for their kids are much higher than the previous generations. 
Most young parents have a tendency to let their children experience high-quality, smart, and safe products. Hence, this is an opportunity for investors to bring the best mom-and-baby products to consumers. 
Besides, according to the statistics of Euromonitor, the revenue of the mother and baby industry in Vietnam reached approximately 50.100 billion in 2021. This is such a large number compared to other industries. 
The mom-and-baby market in Vietnam will be more attractive if this revenue number grows further in the years 2023-2025.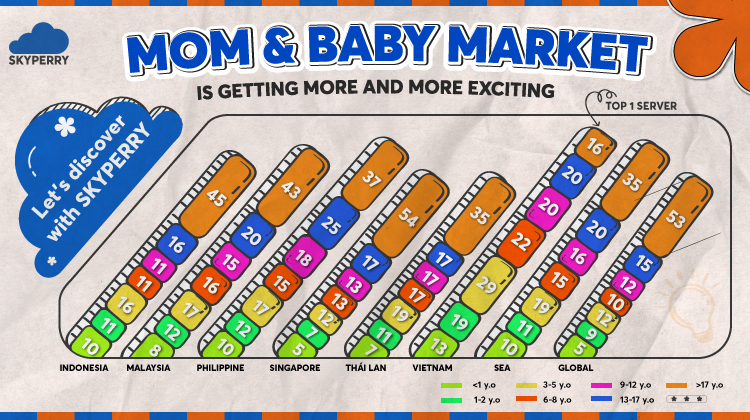 The bustle of mom and baby market in Vietnam and other neighboring countries in recent years. (Source: Trendsvietnam) 
In spite of the post-pandemic situation, the mom-and-baby market is still on the rise in a stable way. With this growth, the revenue can reach up to 7 billion dollars in the forthcoming years. 
Mom and baby products that are worth the investment in 2023 
Currently, the age of children between 0 and 12 accounts for a lot, approximately 20.8 million children – according to the figures from Mr. Thomas. J Ngo, General Director of Nkink.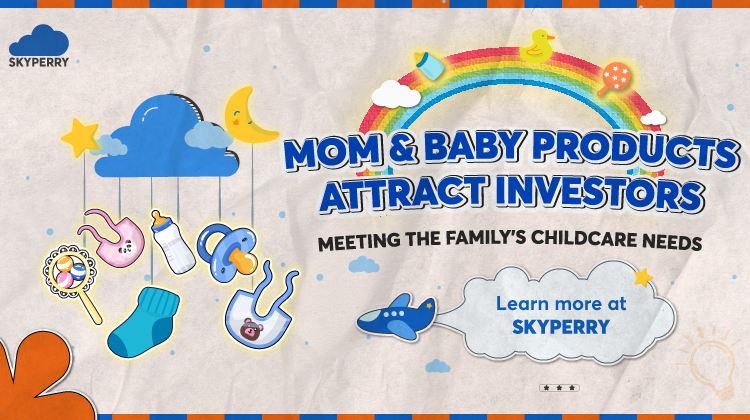 Mom and baby product attract investors meeting the family childcare needs
Besides, the demand for gen Z parents is quite high, bringing mother and baby industry more opportunities to grow. 
Here are some essential products for children that are worth investing in the Vietnam market in 2023: 
Nutritional milk and food 
The health of children is the primary concern of parents. They want their children to grow in height, intelligence, as well as good resistance. Hence, nutritious milk brands for Vietnamese children are getting more diverse. 
The investors may be willing to provide high-quality milk and nutritious foods for childrens. These products are powdered milk, liquid milk, snacks, etc. All of them help to supplement good nutrition for children, which meets the needs of parents. 
Recently, the Vietnam dairy market has also received the appearance of the top Korean brand of nutritious milk for children – NUCARE MyKids. 
Healthcare products for children 
Besides the comprehensive growth of children, parents are also interested in medical products for children. These products have to meet safety standards and they must have high quality, which makes parents feel secure to take care of their children's health, especially when they are sick. 
Due to this interest, the medical product industry for children is kind of potential for investors. Some popular products are infrared thermometers, medical kits, etc. 
Products that help mothers take care of children 
The demand for baby care products has been also high. Mothers can make use of products with modern technology to help care for their children. This also helps them save time in the context of a busy life today. 
To meet the demand of mothers, lots of products are created to help them take care of their children. Some outstanding products are strollers, beds, bottle warmer, breast pumps, sterilizers, baby care equipment, etc. 
To sum up, the market for mom-and-baby products in 2023 will have a more exciting transformation. Lots of mom-and-baby brands will grow their competitiveness to meet the needs of modern parents. 
SKYPERRY is a pioneer agency in providing marketing and digital transformation services for mom and baby businesses. With years of experience in this field, we are committed to bringing great communication results for mom-and-baby brands in Vietnam. 
Contact SKYPERRY via our email: [email protected] or tel: +84  88 605 6868 now for the most dedicated consultancy and service!