Mom and baby market is one of the most outstanding fields of business catching the attention of investors. However, no matter how potential this field is, it is always fierce competition between businesses for the goal of becoming the top mom-and-baby brand in Vietnam.
The appearance of the new brands in the mom and baby market
There are some popular mom-and-baby brands that are well-known for consumers, for instance, Fatzbaby, Bopby, Johnson & Johnson, Pampers, Fisher-Price, etc. However, they are not all for this.
In recent years, there have been some more brands entering the Vietnam market, including The Honest Company, Earth's Best, Seventh Generation, Gerber, etc. These new brands also bring significant competition.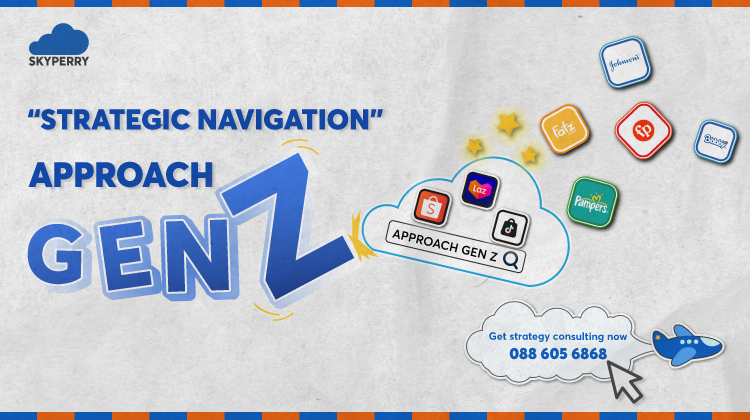 "Strategic navigation" approach GenZ
The target audience of these new brands is consumers of generation Z. They are known as smart consumers nowadays. Gen Z parents prioritize the origins of products and how they are safe to use for children.
Some big brands have a tendency to target gen Z parents
According to the trend of the market, the big mom and baby brands are transferring themselves by building marketing strategies to catch the attention of gen Z. These big brands make use of social media channels, websites, E-commerce stores, etc. to reach gen Z when they have a good grasp of the behaviors of consuming mom and baby products of gen Z. This also helps them increase their brand awareness and build trust on the Internet.
For this fierce competition, mom-and-baby businesses always have to make themselves outstanding to catch the attention of target consumers. To do that, they have to create unique products that meet the demands of gen Z and understand this target audience – understanding gen Z is an opportunity for businesses to expand their products in the mom-and-baby market.
How mom and baby brands should compete against each other in an effective way?
The fierce competition for the mom-and-baby market will continue in the forthcoming time. So, mom and baby businesses should do the following things:
– Innovate and update products to create value for customers.
– Focus on product quality to create a good shopping experience.
– Reach customers through social media channels and E-commerce stores such as TikTok, Instagram, Shopee, Lazada, etc. Besides, businesses also take advantage of social media to create good interaction with customers, including livestream, contests, and minigames and trigger the action of sharing and reviewing of customers.
Not only do businesses build effective marketing strategies but they also need to:
– Provide customers with detailed and accurate information about products: review, origin, etc. to build trust from gen Z.
– Build the right sales strategy: diverse product ecosystem, deep and extensive promotion, reasonable price, etc.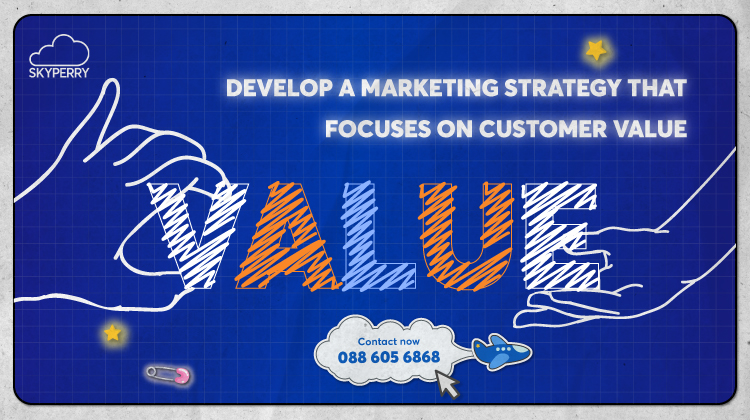 Develop a marketing strategy that focuses on customer value
To sum up, businesses need to convey unique products, promotion programs, after-sales privacy with good quality, etc. if they want to expand the market and dominate the market share in the mom-and-baby industry. To implement these things, businesses can use online market channels such as social media channels (TikTok, Instagram, YouTube, Facebook), online advertising, email marketing, Zalo OA, etc.
To have marketing campaigns to provide consumers with information about products and brands, businesses can use an outsourced marketing department for an optimized budget and period of time.
SKYPERRY is an agency – an outsourced marketing department – that provides general marketing services for mom and baby industry. With 8 years of experience in executing a variety of campaigns for domestic and international markets, SKYPERRY is proud and confident to bring businesses the most impressive marketing strategies.
Not only does SKYPERRY has experience in marketing the mom and baby industry but also for other brands in industries such as cosmetics, electronic components, digital services, Food and Beverage, etc.
Here are the marketing campaigns that SKYPERRY executed for clients:
– Case Study Nuty Cosmetics: Boosting Sales Via Short Videos
– FATZBABY VIETNAM: Increase brand awareness through a "short video" campaign
For quick consultancy from SKYPERRY, businesses can contact us via the hotline: +84 88 605 6868 email: support@skyperry.com.